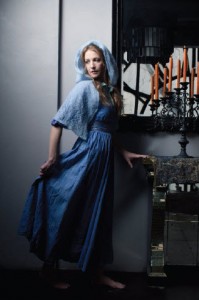 ©Interweave Press, 2013
So getting started with the actual posts here. I figure that I'll also do some of my older patterns but I'll start with one that just came out which is The Gray Lady's Cloak. I designed it for Interweave's The Unofficial Harry Potter Knits.
I didn't notice this call for entries, but when the Jane Austen Summer edition for this year was combined with the fall I found out about it. Harry Potter, really!? In some way it's great inspiration with all of the magical elements and memorable characters, but then it almost becomes open ended because there is soooooo much choose from that it was a little overwhelming for the first day to think of a design.
I had been playing with a cloak pattern in my head for a bit, so I naturally led myself to making a cloak of some sort. I also wanted to make a design that was more Hogwarts inspired because all these people walk thru it's halls, but it remains. The two main features that enchanted me about Hogwarts were the ghosts and the paintings. So you can see where I'm going…
The mock-up that was part of my original submission is fairly close to the finished results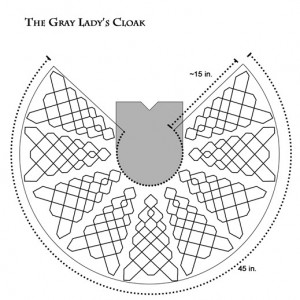 The original yarn I swatched was Kidsilk Haze held double. What I got was Classic Elite Yarn's Giselle which was a lot of the same features, but is thicker. I did try knitting it with two but it ended up super thick and stiff. Another change from my original idea is that I did it as a yoked cape versus pie wedges. Ultimately I am happy with the results.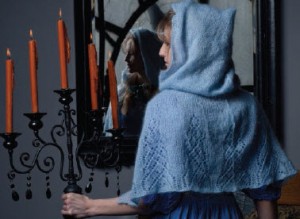 ©Interweave Press, 2013
Personally, I think I'm making one for myself that is just the cape, and I may use it as an opportunity to try Rowans new Angora Haze.
I have 3 more patterns coming out in the next month I look forward to sharing with you!